Discover the power of reviews and feedback from our incredible volunteers! Hear their stories and experiences, as they share their heartfelt journeys and the impact they made. Join our community and be inspired by their words of praise and gratitude. Find out why our volunteers love being a part of our mission-driven organization. Read our reviews today!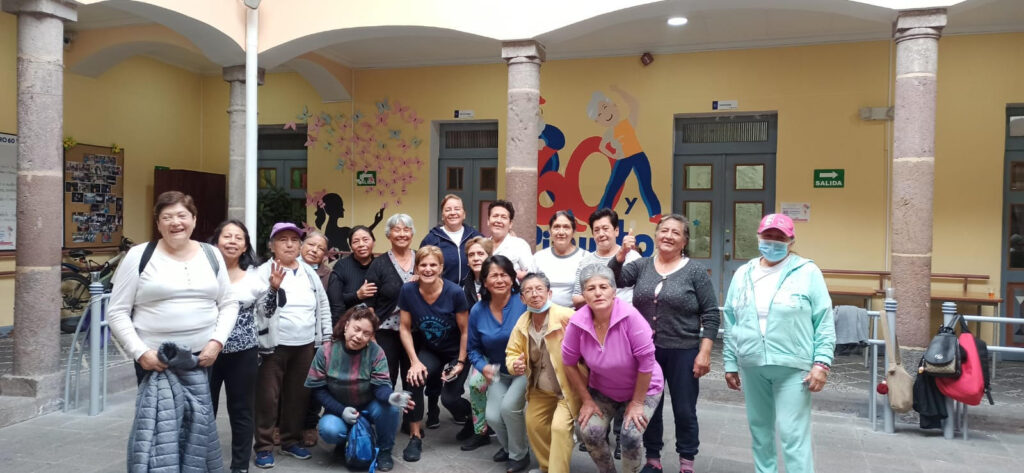 1.-How was the local ABV Coordinator and the support provided in-country (airport pickup and drop off, orientation, introduction to work, availability, other)?
Laura and her driver were standing at the airport with a sign for me when I arrived Saturday night. Karen came on Monday and completed my orientation in Spanish and English so that I understood details. Laura was also my host family. She was available 24-7. Laura made sure I had Evelyn, another Volunteer Coordinator/helper who spoke a bit of English with me the first week of work to help explain the danger in the streets. She also helped me understand direction at the project and how to take a Trolley home safely. Laura and her husband gave me a ride to work the first two weeks, as Laura's work is also in the Historic Center. I walked from her work to mine through the center after the first week, but she was always available via What's App if I needed her. She made sure there was always someone communicating with me and her regarding safety when I was moving about to and from the projects.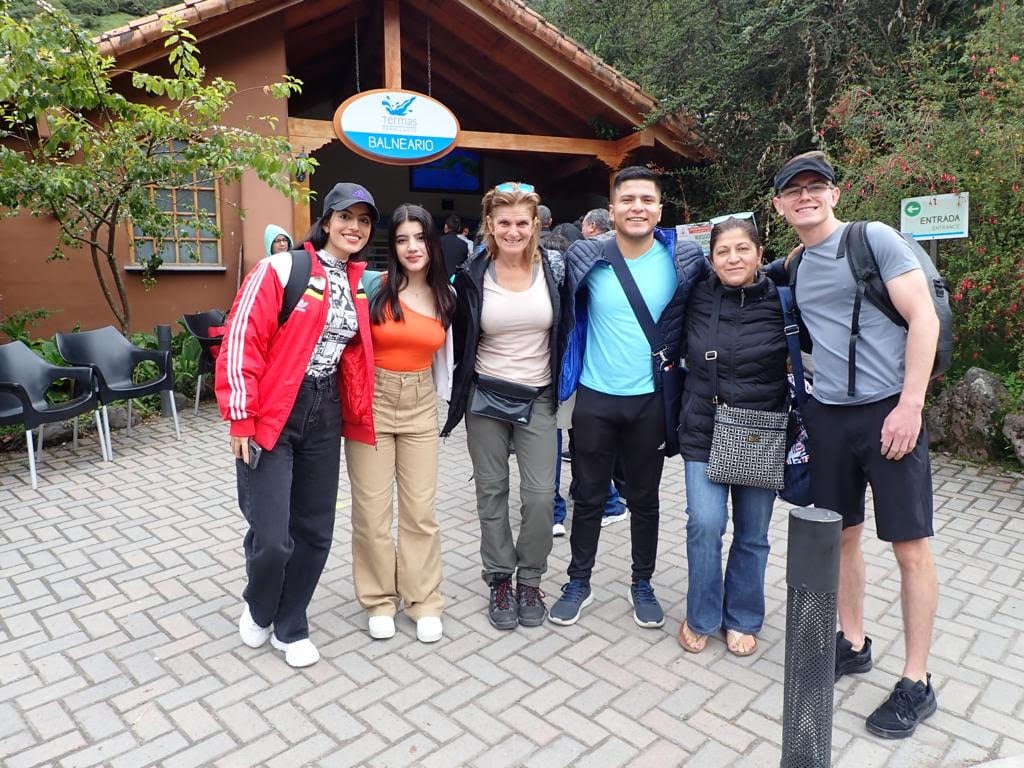 2- What was the most positive surprise you experienced?

At the program: The projects are very organized, clean, neat and extremely safe. They are security guarded. Direction is given. Hours are precise just like in a working environment in the United States. You are given hours and stick to them promptly.

At the accommodation: The volunteers have their own apartment. It is fully equipped and private. I had my own bedroom and did not feel as though I was in a crowded group. There was a permanent Volunteer paid worker living in the apartment. On my 3rd week, one other volunteer who was a male came. I never felt an invasion of privacy. The apartment was full-sized, Westernized and private.
About the country: The country is absolutely beautiful. The people are friendly. There were a million things to do on your free time, and I never bored of the beauty, mountains, volcanos.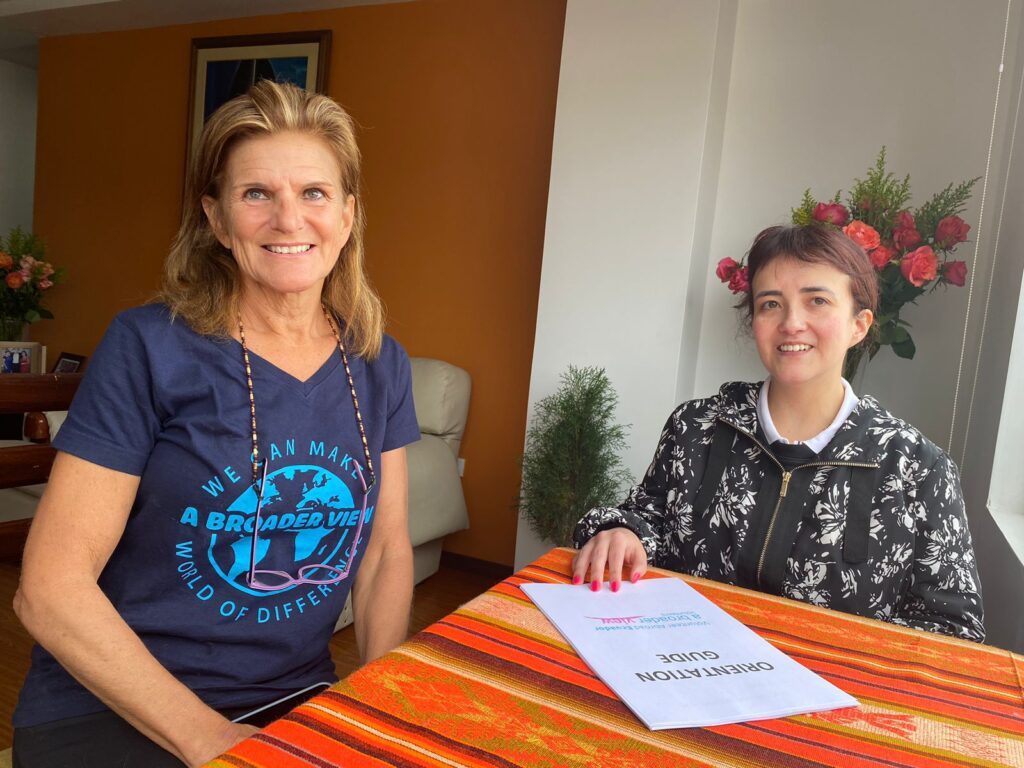 3- What was most difficult/culturalshock to experience?

At the accommodation: The host family does not speak English. The grown kids do, but they are not allowed to speak English to the volunteers. Again…I LOVED THIS, AS IMMERSION WAS PART OF MY GOAL.
The country: We went out one night on a street called Ronda to salsa dance and have dinner. It was fun, and there were 5 of us.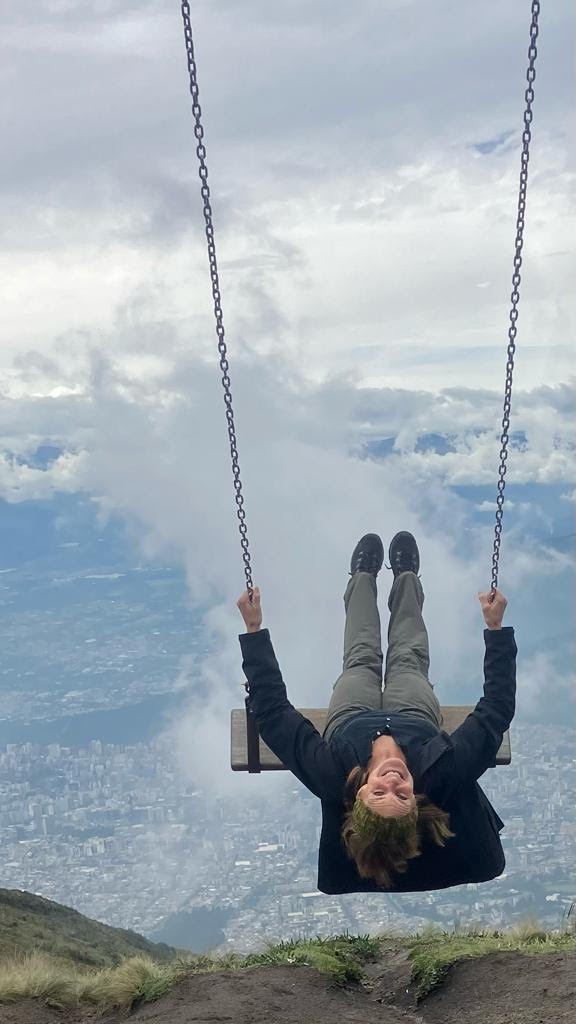 4- Any tips for future volunteers, give as many details as possible…

Clothing: Don't over pack. You don't need nice shoes or pants/skirts – you can't go out at night. Travel pants that can become shorts are great – Bring two pair, and then you have 4 pair of pants. You do need a rain jacket. A heavy coat is only necessary on the mountains or hiking the volcano.

Donations: Bring a little something for the host family. Find out what they like if you can because I found out too late that my host family loves Skippy Peanut Butter, and can't get the "good stuff" in Ecuador. I would have brought them that. Your home state T-shirts or novelty items are fine.
For your project, don't overpack donations because it's hard to know what they will need. I happened to do good with resistance bands for exercise (I'm a trainer and taught exercise while there) and English teaching supplies. I suggest taking extra cash and buying them things to leave if you want to donate.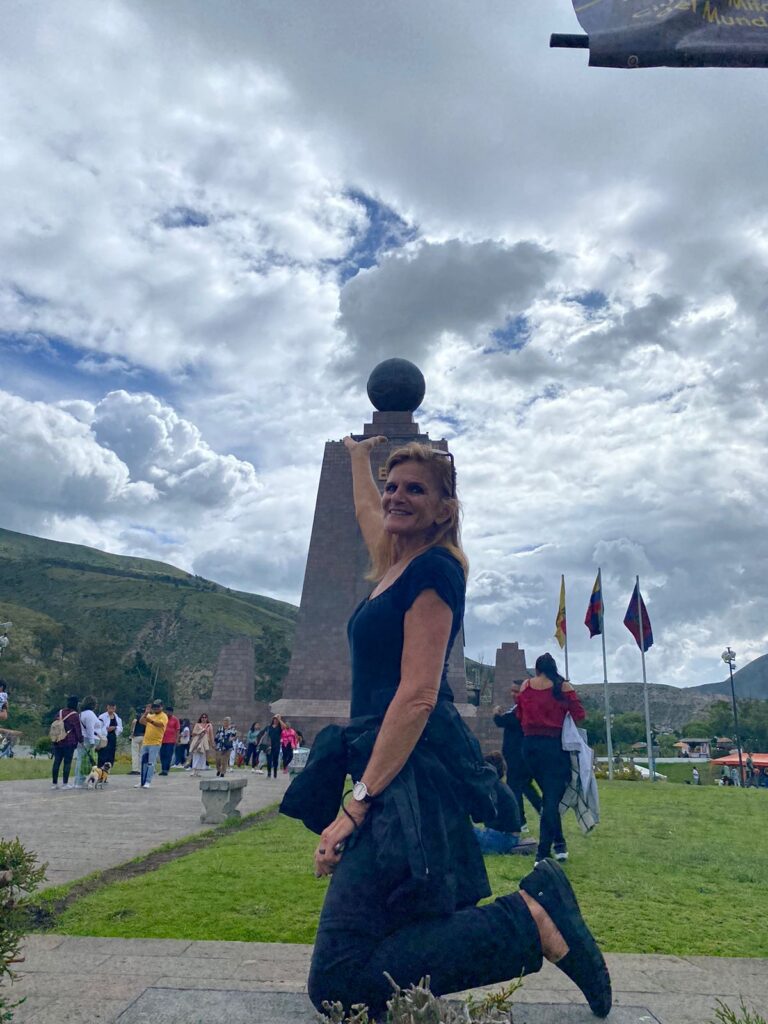 Weather: It may rain but isn't real cold or real warm (May)….take one long sleeve shirt (or two) for layers and your rain coat, gloves, a sun hat and a winter cap. (Layers you will need for excursions). I only wore shorts in the Galapagos.
4.1- Other things volunteers should know, about what to bring, what to do in country, what to eat, transportation, other:

a.- Use Uber while you are there – it's the safest.
b.- You are safe in your host family house as are your valuables. You don't need a lock, but you may need one like I did on your project to lock your things. (ABV: all volunteers must bring a lock for the valuables and store in luggage)
c.- Try local foods like bolon, encebollada (soup), tostados (snacks/soup garnish), chifles (banana chips)
d.- Go on all of the local excursions and do at least one or two day trips. Local things to do: Penecillo, Teleferico, Historic Center Museos and cathedrals, Basilica, Miltad Del Mundo. Day trips: Hot Springs Public pool park, Mindo, Baños, Otavalo, Cotopaxi Volcano, Galapagos Islands (weekend trip – w/airfare about $500 – more if you book excursions there).

5- Personal Paragraph (ABV Program Testimonial):
My project was very organized and perfect for me. I taught exercise, dance, English, and helped in therapy, kitchen, painting or wherever needed. I was able to take a knitting class with the seniors and had plenty of free time every afternoon and on the weekends for exploring – I got up at 5 a.m. everyday to workout and leave for work. I worked until 1 p.m. and then had the entire afternoon for exploring. You have to be home by 5 p.m. Dinner is at 7:00 p.m. promptly. I was usually in bed by 9:00 p.m., and then at it again. I was gone every weekend exploring, but if you stay home, breakfast is at 8:30 on weekends and you get to sleep in. If you eat breakfast (I don't) It's at 6:30 a.m. – lunch is between 1:30 and 3:00 or you can pack your lunch and take it to work. I came home for lunch often, but a few times I ate in the Historic Center – I love trying all of the banana dishes – they eat a lot of rice, potatoes and bananas.
This was an experience of a lifetime. It took me a week to get used to the streets. My back hurt, my body hurt, I was mentally and emotionally exhausted because my projects were in the Historic Center. I found that Uber is really the only SAFE TRANSPORTATION for a female traveling alone. I missed going out at night, but really enjoyed our group trip to Ronda for dancing. This was the perfect place for me to immerse in Spanish and grow my Spanish language vocabulary because nobody speaks English. Once I got use to Quito, I had THE TIME OF MY LIFE.
The fruit juices including Mora (blackberry juice) are absolutely delicious! I went to Mitad Del Mundo and the Historic Center with Laura my first 3 days there. I went to Otavalo and Cotopoxi my 2nd weekend, the Galapagos my third weekend, and the hot springs and shopping with Laura the last weekend there. I got my nails done for $2.50, which I could not believe.
My projects were perfect for me. My skill set was used 100%. My Spanish is now Intermediate. I learned a lot of expressions, and can now understand conversations. Ecuador is a beautiful country. Use caution when you are exploring the city. UBER is super cheap (under $4.00 anywhere in the city.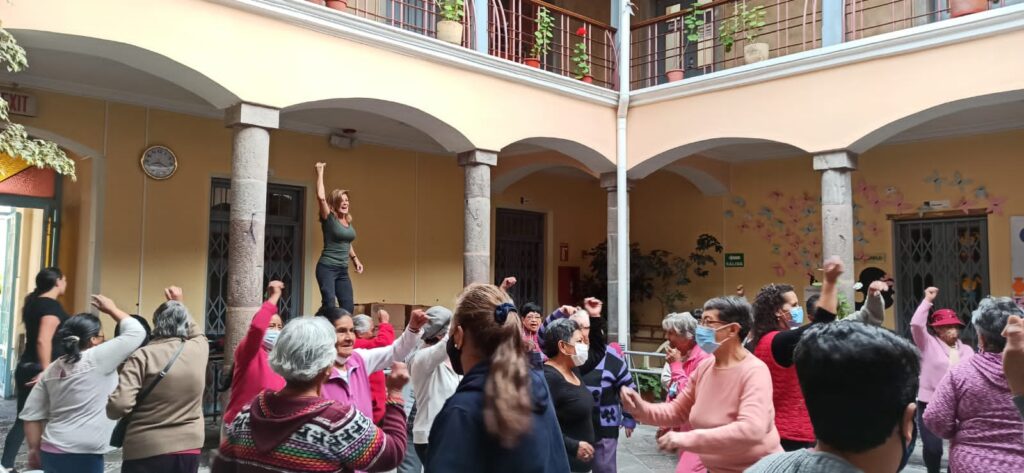 6- How would you describe your accommodation, meals and security in detail:6- How would you describe your accommodation, meals and security in detail:

The accommodations are perfect. Volunteers live in a private apartment. Meals are served promptly at 6:30 a.m., between 1:30 and 3:00 p.m. and at 7:00 p.m. You go down to the 3rd floor apartment where your host family lives and eat as a family. They have an amazing dog who is a Golden Retriever. Food is delicious. Usually a Banana dish, eggs, fruit, fruit juice and coffee. Lunch is a meat, rice, fruit and salad. Dinner is usually left overs or soup. Usually something different and special on Friday nights. The apartment building is super secure – locked with a guard. Keys are used on entry and for the elevator. There is a great little coffee lunch restaurant downstairs that's open until about 7 I believe.

7- What was your favorite memory of this trip?
My favorite project memories were: One of the seniors gave me her ring. She told me that God blessed them through me and she knew He was protecting me. She told me never to take the ring off. I did not take it off the entire time. She gave it to me on my 2nd day on the project. At the "homeless/immigrant house/shelter" my favorite memory was when the immigrant from Uganda made a purse for me and I was able to give her the cash she needed for her COVID test and watch her leave finally for her home in Uganda!
My favorite excursions were probably hiking the active volcano at Cotopaxi, swinging over the side of the mountain on the teleferico, and my long weekend trip to the Galapagos. The water falls at Baños and Mindo were spectacular, as were the hikes to get there. The hike up the volcano was intense and at a 15,000 foot plus Altitude, but 100% Valio' La Pena! (It was worth it!) I also am so glad I booked Carlos, Laura's Spanish Speaking Driver, for my excursions to Mindo and Baño. He was so fun and informational. He helped me buy a poncho from an indigenous lady in a local town – $15!
I went as an advanced beginner Spanish Speaker and came back as an intermediate. I did take two weeks of Spanish, but I feel like I learned more listening and trying to understand everything I was hearing at home and on the job than I did at my Spanish class.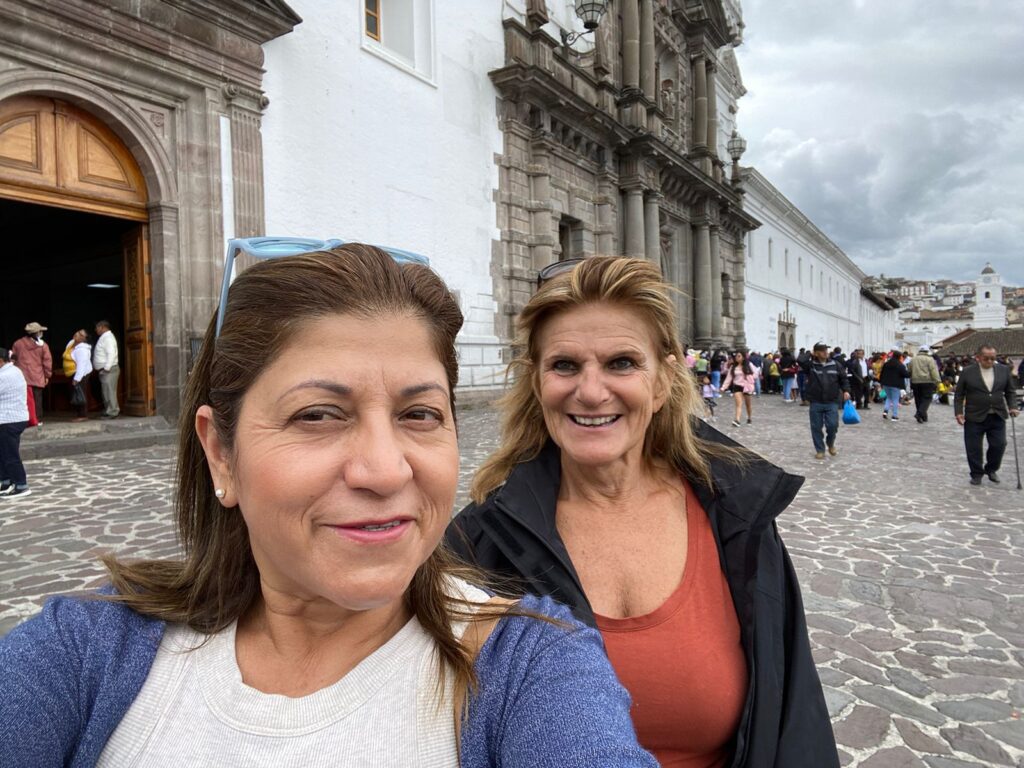 8.- How was the ABV USA support prior traveling, who helped you?
Sarah at ABV was super helpful answering any questions I had. The website information was detailed and super helpful, and any challenges that arose during travel booking, fundraising, etc., Sarah always answered my questions and got back with me. Oliver even helped me read a Spanish contract when I had to change my flight from Peru to Quito Ecuador. I had problems with the refund, and Oliver helped me understand the contract. I raised 100% of my funds thanks to the ABV fundraising portal and direction provided on the orientation guideline.

9 – Are you willing to speak to other potential ABV volunteers?
Yes – absolutely. I recommend ABV. They make it affordable, safe and easy to plan and carry out a Volunteer trip.

10 – Can you be specific how did you find or know about A Broader View?
A friend sent me the website link because she thought it was something that would interest me. Spanish Immersion is what she was looking for when she found it.
Discover empowering volunteer opportunities in Costa Rica through sustainable programs offered by www.abroaderview.org. Make a meaningful impact and create positive change.

---

Discover volunteering opportunities for physical therapist students with www.abroaderview.org. Empower yourself through healthcare programs and make a difference in the lives of others.

---

Discover unique volunteer opportunities in Guatemala with www.abroaderview.org. Empower yourself while contributing to sustainable programs. Make a difference today!

---